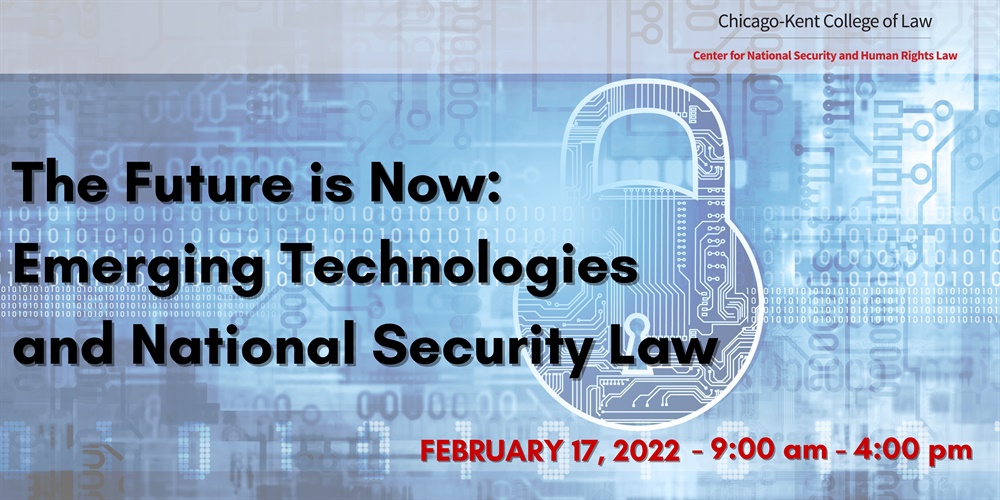 Join us at our annual national security law conference to discuss emerging technologies, such as cybersecurity, cryptocurrencies, artificial intelligence and space law. This year's program will be a virtual conference. Register today and earn up to 6 hours of Illinois MCLE credit hours*!
*Earn up to 12 hours of Illinois MCLE credit hours when you register and purchase the First Wednesday program bundle. Eligible for CLE credit in other states. See additional details below.
---
PROGRAM SCHEDULE -

Thursday, February 17, 2022



9:00am – 9:15am
Welcome and Announcements
9:15am – 10:15am
Randsomware, Inc. - The Business of Cyber-Attacks on an Insecure Internet
Thomas Vartanian, Executive Director, Financial Technology & Cybersercurity Center
This session will discuss the increasing risks to the US financial and economic infrastructure from advancing technologies, including artificial intelligence, quantum computing, and other non-biological intelligence as they increasingly find their way into the hands of malicious users and ransomware attackers. The session will also discuss the range of solutions being considered, including the creation of new Internets.
10:15am - 10:25am
BREAK
10:25am – 11:25am
Know Your Adversary: Criminal Tactics, Trends and Threats
Patrick Hogan, Assistant to the Special Agent in Charge, U.S. Secret Service
As the organizer of the Chicago Electronic Crimes Task Force, Secret Service Agent Patrick Hogan hosts quarterly meetings to help prevent, detect, and investigate electronic crimes. He will describe the financially motivated criminals' mindsets and their ever evolving schemes to profit from their illicit activities.
11:25am – 11:35am
BREAK
11:35am – 12:35pm
Cyber Law Horizons
Jim Dever, Principal, Lockhaven Solutions
The US faces persistent and sophisticated malicious cyber campaigns that threaten the public sector, the private sector, and ultimately the American people's privacy and security. This presentation examines how domestic and international law may be applied to the cyberspace domain to lesson, mitigate, and deter these ongoing harms.
12:35pm – 1:10pm
BREAK
1:10pm – 2:10pm
Cryptocurrency Legal Briefing
Sanjeev Bhasker, U.S. Digital Currency Counsel, United States Department of Justice, Money Laundering & Asset Recovery Section, Digital Currency Initiative
The Department of Justice's (DOJ's) response to emerging national security threats involving cryptocurrency. Discussion of AML/CFT compliance and the DOJ's role in establishing a Digital Currency Initiative (DCI) and National Cryptocurrency Enforcement Team (NCET), as well as the role of the Financial Action Task Force (FATF).
2:10pm – 2:20pm
BREAK
2:20pm – 3:20pm
War and the Challenge of New Technologies: Can the Law of Armed Conflict Keep Pace?
Claire Finkelstein, Algernon Biddle Professor of Law and Professor of Philosophy, University of Pennsylvania
Is it even ethical to develop weapons of such lethality, let alone to use them? Arguably the world now faces a third inflection point in the development of combat technology, namely the very real possibility that advanced nations may soon have the ability to deploy autonomous weapons systems, namely weaponry that has the capacity to select targets and executive lethal force without any human decision-maker in the loop.
3:20pm – 3:30pm
BREAK
3:30pm – 4:30pm
Space Law
Christopher J. Borgen, Professor of Law, St. John's University School of Law
While there may or may not be a "New Space Race," what is certain is that space systems--including GPS, telecommunications, and the launch industry that supports them--are critical to our national economy and to national security. This session will consider the evolution and regulation of space activities and how space law interacts with national security.
---
CONTINUING LEGAL EDUCATION CREDITS
This conference is eligible for up to 6.0 hours of General CLE credit in 60-minute states, and 7.2 hours of General CLE credit in 50-minute states.
---
Credit hours are estimated and are subject to each state's approval and credit rounding rules.
---
Chicago-Kent College of Law will seek accreditation for this conference in the following states: CA, IL, IN, MO, NY, OH, PA, TX, and WI.
---
States typically decide whether a program qualifies for MCLE credit in their jurisdiction 4-8 weeks after the program application is submitted. For many live events, credit approval is not received prior to the program.
---
TO RECEIVE CLE CREDIT: If you have met the participation requirements, you will receive a personalized CLE affidavit link from mcle-kent@americanbar.org within 72 hours after you have confirmed your attendance in CE21, under the certificate tab. Please check your spam or junk folders if you do not receive an email. Please note only one affidavit link is needed for the entire virtual conference. Once you complete the affidavit, you will be able to download your certificate(s) of attendance and you will also receive them via email from mcle-kent@americanbar.org.
---
CONFERENCE PRICING
Early Registration:
through 1/17/22
Regular Registration:
1/18 - 2/14/22
Late Registration:
2/15 - 2/17/22

Individual Rate:

$125/person
$150/person
$175/person

Government Discount*:

$100/person
$125/Person
$150/person
*To obtain the government rate, you must register with a government email address. To receive the discount code email: cle@kentlaw.iit.edu
Purchase the First Wednesday Bundle with Conference Registration and Save!
SIX First Wednesday Webinars: $119

BUNDLE PRICE: $100
Add all six of the First Wednesday webinars scheduled in 2022 to your conference registration and save! The Conference + First Wednesday bundle combined is eligible for up to 12 Illinois MCLE credit hours total. The 2022 First Wednesday real-time webinars will take place on March 2, April 13*, May 4, October 12*, November 2 and December 7; registering for the bundle includes access to the on-demand recordings.
Each First Wednesday live webinar generally is held on the first Wednesday of each month for select months throughout the year. Guest speakers will focus on topics related to national security law, human rights law, and Holocaust and the law.
*scheduled for the second Wednesday of the month.




ACCESSIBILITY OR SPECIAL REQUESTS? WE ARE HERE TO HELP! CONTACT THE OFFICE OF CONTINUING LEGAL EDUCATION
EMAIL: cle@kentlaw.iit.edu | PHONE: 312.906.5090
This conference is presented in cooperation with the Center for National Security and Human Rights Law