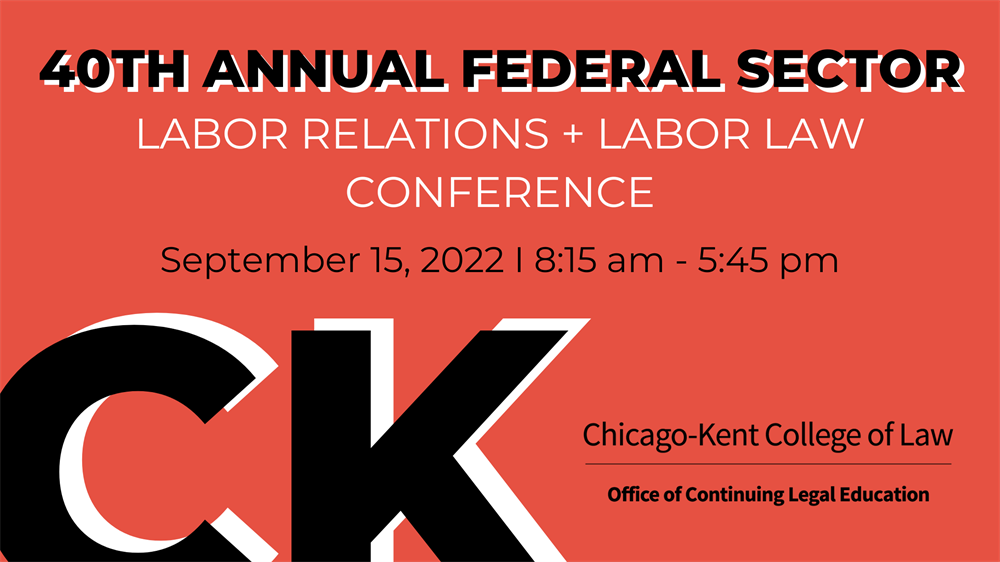 Annual Federal Sector Conference is BACK in-person and better than ever!

Thursday, September 15, 2022
8:30 am - 5:45 pm
Chicago-Kent College of Law, 565 W. Adams Street, Chicago, IL 60661
IL MCLE Credit: 6.75 hours

Join top government officials & policymakers, world-class management-side attorneys & union representatives, and leading academics for this one-day in-person conference, to learn about the future of the federal workplace and workforce as we get our footing under the Biden Administration during an endemic.
---
PROGRAM SCHEDULE *Schedule subject to change*
Thursday, September 15, 2022



7:30 am –

8:15 am




REGISTRATION

8:15 am – 8:30 am

WELCOME AND ANNOUNCEMENTS

8:30 am – 9:30 am

Opening Plenary: The Future of the Federal Workplace - Life Under the Biden Administration During an Endemic

The panelists will discuss a wide range of federal workplace issues ranging from the Biden Administration's policies on collective bargaining and worker empowerment, the transition to a new way of working due to the pandemic, and trends in resolving labor relations disputes.

Tim Curry,

OPM Deputy Associate Director, Accountability and Workforce Relations

Dan Kaspar,

NTEU Director of Field Operations and Organizing

Susan Grundmann

, FLRA Member

9:30 am – 10:00 am

EEO Update

Charlotte Burrows

, EEOC Chair

10:00 am – 10:15 am

BREAK

10:15 am – 11:15 am

Best Practices for Handling Accommodation Requests

Julie Lenggenhager

, NTEU Deputy Director of Field Operations

Kevin Deane,

Technical Advisor, Disability Services Division Equity, Diversity & Inclusion, Internal Revenue Service
Nicole Buonocore Porter, Director, Martin H. Malin Institute for Law and the Workplace, Chicago-Kent College of Law

11:15 am – 11:45 am

BOX LUNCH PICK-UP

11:45 pm – 12:45 pm

LUNCH SESSION

Diversity, Equity, and Inclusion Issues in the Federal Workplace

Nikita Pearson

,

Deputy to the Chairman for External Affairs and Director, Office of Minority and Women Inclusion,

Federal Deposit Insurance Corporation (FDIC)

Vicky Gillen

, Attorney-Advisor to FSIP and a Member of the FLRA's Diversity Equity and Inclusion Committee

Elyssa Santos Abrams, Senior Attorney Advisor, Office of Federal Operations

12:45 pm – 12:55 pm

BREAK

12:55 pm – 1:25 pm

State of the MSPB

The Merit Systems Protection Board emerged in March 2022 from more than five years without a quorum and, for the first time since 2015, achieved a full, three-member Board in June 2022.

Acting Chairman Cathy A. Harris and Member Raymond A. Limon will discuss the agency's statutory mission.

They will also discuss the challenges imposed by the agency's prolonged absence of a quorum, including a large inventory of cases, and the priorities being considered to issue decisions in the most efficient and equitable manner.

Cathy A. Harris, Acting Chairman, Merit Systems Protection Board

Raymond Limon

, Member, Merit Systems Protection Board

1:25 pm – 2:25 pm

MSPB Caselaw Update + Practicing Before the MSPB

Jennifer Cassell,

MSPB Administrative Judge

Daniel Fine,

MSPB Administrative Judge

Mary Senoo,

MSPB Administrative Judge

2:25 pm – 2:35 pm

BREAK

2:35 pm – 3:35 pm

CONCURRENT SESSIONS

Best Practices in Virtual Hearings/Mediations and Administrative Judge Q&A

In the first portion of the session, EEOC and MSPB administrative judges will discuss best practices applicable to virtual hearings and mediations. In the second portion of the session, the judges will address attendees' questions pertaining to MSPB/EEOC practices in an "Ask the AJ" format. Submit your questions HERE.

Michael Rhoades, Administrative Judge, EEOC

David Lidow,

Administrative Judge, Merit Systems Protection Board

Challenges and Best Practices for Conducting Misconduct Inquiries

Jeff Friday

,

General Counsel, National Federation of Federal Employees

Pamela D. Langston-Cox

, Area Counsel, General Legal Services, Office of the Chief Counsel, U.S. Department of Treasury

Frank Boenzi, ASAC, TIGTA, Chicago Office

3:35 pm – 3:45 pm

BREAK

3:45 pm – 4:45 pm

FLRA Case Update

The FLRA's Acting General Counsel and Regional Directors from the Authority's five Regional Offices will provide an update of recent decisions of the FLRA and will discuss practices and procedures of the Office of General Counsel.

Charlotte Dye, Acting General Counsel
Jessica Barlett, Washington RD
Brent Hudspeth, Atlanta Regional Attorney
John Pannozzo, San Francisco RD
Tim Sullivan, Denver RD
Greg Weddle, Acting Chicago RD

4:45 pm – 5:45 pm

Closing Plenary: Federal Service Impasses Panel Update

Martin H. Malin

, Chairman, U.S. Federal Service Impasses Panel, FLRA

Wynter Allen

,

FSIP

Member

Jeanne Charles

,

FSIP

Member

Howard Friedman

,

FSIP

Member

Edward Hartfield

,

FSIP

Member

Marvin Johnson,

FSIP

Member

Mark Pearce

,

FSIP

Member

Pamela Schwartz

,

FSIP

Member

Joseph Slater

,

FSIP

Member

Tamiko Watkins

,

FSIP

Member

5:45 pm – 6:45 pm

NETWORKING RECEPTION
*All sessions will be available for On-Demand viewing after the conference, except for the State of the MSPB.*
Click here for information about our Speakers
---
CONTINUING LEGAL EDUCATION CREDITS
This conference is eligible for 6.75 hours of General CLE credit in 60-minute states and 7.2 hours of General CLE credit in 50-minute states.
---
Credit hours are estimated and are subject to each state's approval and credit rounding rules.
---
Chicago-Kent College of Law will seek accreditation for this conference in the following states: CA, IL, IN, MO, NY, OH, PA, TX, and WI.
---
States typically decide whether a program qualifies for MCLE credit in their jurisdiction 4-8 weeks after the program application is submitted. For many live events, credit approval is not received prior to the program.
---
TO RECEIVE CLE CREDIT: If you have met the participation requirements, you will receive a personalized CLE affidavit from mcle@americanbar.org within 48 hours after the conclusion of the virtual conference. Please check your spam or junk folders, as these emails often end up there. Please note you have to fill out one affidavit for the entire virtual conference. Once you complete the affidavit, you will be able to download your certificate(s) of attendance, and they will be emailed to you as well from mcle@americanbar.org.
---
CONFERENCE PRICING
| | | | |
| --- | --- | --- | --- |
| | Early Registration: through 7/31/22 | Regular Registration: 8/1 - 9/07/22 | Late Registration: 9/08 - 9/15/22 |
| Individual | $275/person | $295/person | $325/person |
| Group* | $225/person | $225/person | $225/person |
* Register five or more individuals in one transaction to qualify for the group rate. The discount will be applied to your cart during checkout.


QUESTIONS? WE ARE HERE TO HELP!
CONTACT THE OFFICE OF CONTINUING LEGAL EDUCATION
CONTACT US: EMAIL cle@kentlaw.iit.edu | PHONE 312.906.5090
---
HOTEL ACCOMMODATIONS
Club Quarters Hotel, Central Loop
111 West Adams Street, Next to the Rookery and near LaSalle, Chicago, Illinois 60603
Phone: (312) 214-6400
Company Code: Illinois Institute of Technology 10G23E
UPCOMING EVENTS
| | |
| --- | --- |
| 12/2 | 38th Annual Illinois Public Sector Labor Relations Law Conference |